: The Goldbergs-Die Goldbergs.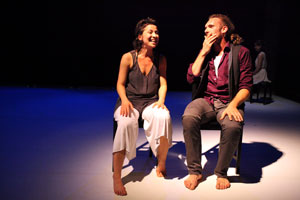 Dance theater for all children aged 6+ with live music
Sabine Seume, known for her highly physical productions for a young audience, plays a creative game with music together with the pianist Vasilena Krastanova and her ensemble of dancers: at times happy, at times sad, or forcefully fast or totally immersed in themselves.
Snapshots of a daily routine that we all know lead us through the production, which allows you to visually experience the transition between reality and dream and opens space for our own fantasy worlds. Stories are told, abstractions emerge.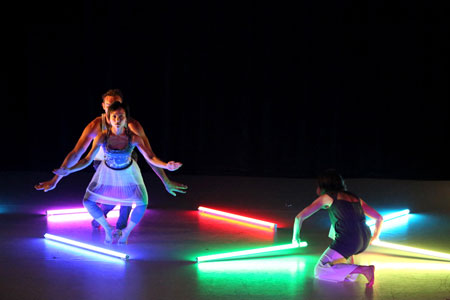 An innovative light design supported by remote controlled lighting elements supplements dancing and music to form an impressive overall experience.
How do you find your clothes amid all the chaos in the morning?
What should you wear and what goes well together?
What's up with the journal?
What happens when someone else reads it or even writes something in it?

Fights and reconciliation, play and seriousness, abstraction and concrete matters clash.
A magical world of images finds its place beyond reality. Everything can exist together. The super hero, helplessness, poetry and competition. Supporting each other, the unspeakable matters of friendship and nearness, dreams and totally normal life.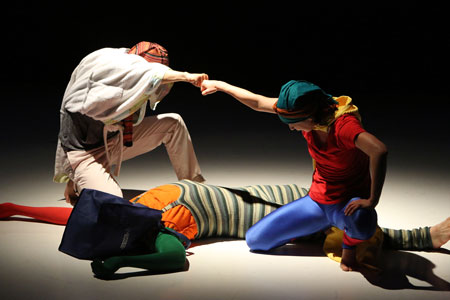 "In Seume's production, there is no moment which is dedicated to childish things, and that is also quite pleasant for the adults. With "Die Goldbergs", Sabine Seume does not orchestrate a kid's show, but rather presents contemporary dance to century-old music to the children."
Michael S. Zerban
Artistic direction/choreography: Sabine Seume
Dance: Chih-Ying Ku-Gebert, Fátima Gomes, Yuta Hamaguchi, Arthur Schopa, Pianist: Vasilena Krastanova, Lighting: Tobias Heide, Props: Radovan Matijek
A production by the: Sabine Seume. Ensemble., co-produced by the tanzhaus nrw in the context of Take Off: Junger Tanz.
Further supported by the Kunststiftung NRW, the state capital Düsseldorf and the Ministry for Families, Children, youth, Culture and Sports of North Rhine-Westphalia.

Photographie: Ursula Kaufmann © 2013