: Biografie.
"The often riddle-like, hermetic art from this aesthetically borderline artist mostly focuses on that, which is isolated, lost and yet still undaunted and moves her through a velocity-less time-cosmos… Human existence has lost little absurdity since Antiquity and this enables Sabine Seume's pieces to codify and reflect on man's highs and lows since then."
Bettina Trouwborst, K.West 4/2004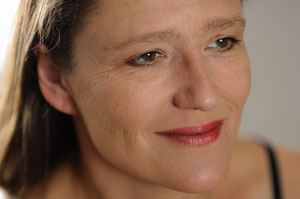 Choreographer Sabine Seume studied at the Folkwang Hochschule in Essen under the direction of Pina Bausch. Following various projects in Germany and Switzerland (Folkwang Tanzstudtio, Stadttheater Essen, "Seven Senses Restaurant" and with the Swiss CH – Tanztheater), Sabine headed to Japan where she danced with Carlotta Ikeda's Butoh company Ariadone for six years and also dealt intensively with Eastern aesthetics and the artistic forms of expression in Asian culture.
Today, Sabine Seume's work is still heavily influenced by Eastern aesthetics. In collaborative projects with avant-garde musicians and painters, she continues to develop a unique style reaching far beyond the established forms of dance and expression inherent to either Eastern or Western culture.
When looking at the themes selected throughout her artistic career, one also notices a change and development of the striking paradigms that Sabine Seume chooses. Her earlier pieces are notably influenced by mythological forms and images while her latest pieces deal more and more with current, social or political events.
Since the year 2002 Sabine Seume creates with passion professional dance productions for the young audience.
She works also as a Coach for dancers, choreographers and teachers.
Artistic Works:
2017 Momentum, CIE. TanteHorse, Prag
2017 Melancholia, Haus der Performancekunst, Duo Susanne Weins, Saso Vollmaier
2017 Stille, Kinderproduktion, Koproduktion mit dem Kulturbüro der Stadt Krefeld und dem Tanzhaus NRW, Düsseldorf
2016 Wahrscheinlich Wintermond, Haus der Performancekunst, Solo Andreas Simon, Koproduktion mit dem Kulturbüro der Stadt Krefeld
2015 50+ Tanztee mit Andreas, Haus der Performancekunst, Solo Andreas Simon
2014 Bewegte Oktaven, Haus der Performancekunst, Duo Susanne Weins, Saso Vollmaier
2013 Die Goldbergs, Kinderproduktion mit Live Musik, Koproduktion mit dem Tanzhaus NRW und Take Off-Junger Tanz
2012 Lichterfest (light event) Ständehauspark, K21 Düsseldorf
2012 Ein Triptychon – Drei Veränderungen (One Triptychon – Three changes), Haus der Performancekunst, Düsseldorf
2010 2° neben der Wirklichkeit (2° beside reality) Haus der Performancekunst, Krefeld and Düsseldorf
2010 kind.gerecht – I change my world, youth production in cooperation with tanzhaus nrw and theater fayoum
2009 SichtWeise (View point), generation connecting project, Tanzhaus nrw, in collaboration with the director Franz Mestre
2009 Die Zeiten ändern sich (Times are changing) Haus der Performancekunst, Düsseldorf
2009 TAMAR, Ruhrtriennale
2008 Der Seelenvogel (The soulbird), children´s production, :Sabine Seume. Ensemble., Düsseldorf, in coproduction with tanzhaus nrw and Take Off – Tanzplan Deutschland
2007 Body landscapes – das blanke Wesen (Bodylandscapes – the pure beeing), :Sabine Seume. Tanzt. Solo., Düsseldorf, in cooperation with tanzhaus nrw
2006 Die Königin der Farben (The queen of the colours) ,children´s production, :Sabine Seume. Ensemble., Düsseldorf, in coproduction with tanzhaus nrw
2005 Wenn der Fluss zum Meer wird (When the river changes into the sea), a production of :Sabine Seume. Ensemble., tanzhaus nrw and Kulturbüro der Stadt Krefeld
2005 Sommertanz Junge Talente
2004 Wilderland (wild land) children's' production, :Sabine Seume. Ensemble., Düsseldorf, in coproduction with tanzhaus nrw
2004 Der Flug der Fische (Flight of the fishes), :Sabine Seume. Ensemble., Düsseldorf, in co-production with tanzhaus nrw
2003 Das macht mich noch ganz irrrrre! (This makes me crazzzzzy!), Youth Production, Krefeld, Move Festival, in collaboration with the director Franz Mestre
2002 Gefallene Engel (Fallen angels), :Sabine Seume. Ensemble., Düsseldorf, in co-production with tanzhaus nrw
2001 Sechs sind Eins (Six are one), children's production, commissioned by "Sekretariat für gemeinsame Kulturarbeit Wuppertal", realized with the dancers of Ballett Schindowski Gelsenkirchen
2001 Leonor, duo with actor Maria Faust, directed by Lena Lukianova, Brotfabrik Bonn
2000 Onnagata, solo, Brotfabrik Bonn. Selected for the touring festival Tanzstrasse
1999 Wölfli – a journey into chaos, Healing Theatre Köln, direction Petra Weimer
1999 EX...IT!, 2nd Butoh Symposium Schloss Bröllin
1999 Aus einer anderen Welt (From Another World), children's production, commissioned by Sekretariat für gemeinsame Kulturarbeit Wuppertal, created with the dancers from Landestheater Detmold
1998 Steinschlag (Stonebeat), duo with singer Christina Ascher, Düsseldorfer Altstadtherbst
1997 Heine Spektakel (Heine Spectacle), Düsseldorf, choreography and dance for various scenes
1997 GötterSpeise (The God´s supper), solo, Aachen, Ludwigforum
1996 Ich werde Deinen Schatten essen (I'm Going to eat your shadow), Cie. Nude Ants, Sabine Seume and André Jolles
1994 Tengu oder der Baum des Ikarus (Tengu or the tree of Icarus), solo, Paris
1993 Einer Reise Nacht (A voyage night), Der alte Stein (The old stone), solo, Zürich, Theater Westend
Nominations and Awards
1994 Prix Mandapa für das beste Solo.
1997 Brams Festival Belgrad, 1. Preis für das experimentellste Stück.
1998 Nominierung für den Förderpreis Darstellende Kunst der Stadt Düsseldorf
2000 Ausgewählt für die Tanzstraße / Rheinschiene, Onnagata
2003 Ausgewählt für die Tanzstrasse/Rheinschiene, Gefallene Engel
2009 Publikumspreis beim "25. Kinder- und Jugendtheatertreffen NRW", "Der Seelenvogel"
Memberships/Jurys
World Dance Alliance
ASSITEJ Germany
1999-2004 Mitglied des Theaterbeirates der Stadt Düsseldorf
2004-2008 Mitglied der Jury Förderpreis Darstellende Kunst, Stadt Düsseldorf
2005-2008 Kunst und Kultur in Schule, Stadt Krefeld
Teaching activityen
Workshops für Laien und professionelle Tänzer in den Bereichen Butoh und
Tanztheater, national und international.
Im Rahmen von Take Off-Junger Tanz an Düsseldorfer Förderschulen und allgemeinbildenden Einrichtungen
2007-2014 Lehrauftrag an der Fachhochschule Osnabrück
Seit 2014 Lehrauftrag an der Fliedner Fachhochschule Düsseldorf
Further Training
Coach in der Fachlichen Begleitung unter M.A. Petra Diettrich, München